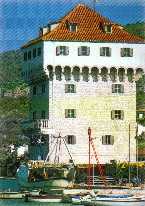 Trogir-Split Riviera

Split, city and harbour with 190,000 inhabitants is the major urban, cultural and transport hub of Dalmatia, connecting numerous holiday resorts throughout Dalmatia via land and sea routes. A city with a 1,700 year history, abound with archaeological, historical and cultural monuments is often itself the target of tourists and visitors. The city's showpiece of course is Diocletian's Palace, listed by UNESCO as an item of World Heritage significance. Split possesses the appeal and warmth of a modern Mediterranean City.

A visit to the Marjan Nature Park is definitely worth your while – a green oasis which has been proudly protected and nurtured by the inhabitants of Split for generations. Split is abounding in restaurants and wine cellars where you can enjoy local specialties. Beaches and bathing areas are plentiful in the town itself as well as in nearby places. Especially popular is Bacvice, a sandy beach virtually in the very centre of Split.

With a rich cultural and entertainment lifestyle, especially during the summer, Split with its squares, gardens and other public spaces transforms into a huge stage under clear skies. A variety of theatres operate in Split, the most noteworthy being the Croatian National Theatre, erected in 1893. It organises the Split Summer Theatrical Festival as well as the Marulic Days Festival, tribute to written and theatrical works of the historic Croatian writer Marko Marulic.

Trogir, 27 km west of Split, with its 10,000 inhabitants is a museum-town in the true sense of the meaning. Its old town centre is situated on a small island caught between the mainland and Ciovo Island. Admirers of cultural and historic monuments, art, unique buildings and lovely streets, in Trogir will discover an impressive and stratified heritage – ranging from Romanesque courtyards to contemporary furnished interiors. Trogir and surrounds (Trogir-Split Riviera) are characterised by lush vegetation, numerous islands and islets, as well as stone and pebble beaches.

Situated close to ancient Trogir (12 km) and Split (36 km), is a small settlement by the name of Marina, numbering 900 inhabitants. The coastline of Marina Bay is indented with numerous tiny bays lined with sand and pebble beaches. Sandy beaches shaded by olive trees and conifers, the ambience of old Dalmatian wine cellars, fresh fish and superior home made wines, a blend of the ancient and the modern, combines to make Marina the destination for a pleasant holiday.

Sport and recreation enthusiasts can spend their time sailing, diving, fishing, boating or cruising in luxurious motor yachts. Entertainment and cultural programmes are plentiful in nearby Trogir and Split. The Marina Riviera is composed of Vinisce, Poljica and Sevid, small settlements offering accommodation opportunities and a tranquil vacation.