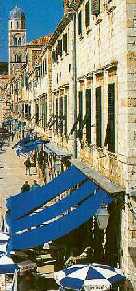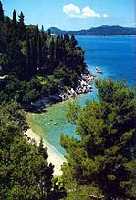 Dubrovnik
Numbering approximately 50,000 inhabitants, Dubrovnik is one of the most beautiful and well known cities in the Mediterranean Region, listed as a World Heritage Item with UNESCO. In addition to its outstanding natural beauty and well-preserved heritage, Dubrovnik is also a city that has an exceptional variety of tourist attractions. A city of hotels, beautiful environment and an enviable ecological rating, it is an explicit tourist attraction all year round. Dubrovnik began to develop as a tourist destination before World War I. On account of its captivating uniqueness, Dubrovnik quickly developed into a strong international tourist center. At least several days are required in order to acquaint oneself with Dubrovnik and its treasures and monuments.
Dubrovnik is a culturally and artistically vivacious city. A point in case is the Dubrovnik Summer Festival (from 10 July to 25 August), which has been traditionally held since 1950. Since its inclusion in the Calendar of World Festivals in 1956, it has become one of the most renowned theatrical, musical and folkloric festivals in the world. The festival is held on open stages throughout the town or in spectacular settings provided by its ancient buildings. Its repertoire includes both Croatian and world classics.
Well known places on the Dubrovnik Riviera include Slano, Brsecine, Trsteno, Orasac, Zaton, Mokosica, Konavle, Kupari and Cavtat, as well as the Elafitic Islands (Sipan, Kolocep and Lopud), located northwest of Dubrovnik and dividing the Kolocep Channel from the Northern Dubrovnik coastline.
The island and settlement of Lopud with its 350 inhabitants makes up the Elefatic group of islands, located northwest of Dubrovnik. Time appears to have stopped on Lopud Island. No hustle or bustle, far from the swelter of heated concrete. Here life goes on even without automobiles. Only pedestrians and their boats disembark on this Elafitic Island beyond Dubrovnik. Tourists can enjoy in apartments that virtually extend right into the beaches themselves. Lopud is adorned with sandy beaches and turquoise clear seas. Amongst the numerous number of small, hidden coves, "Sunj" beach is probably the most appealing of all. Lopud is reachable by the vessel "Postira" which departs from Gruz town harbor in Dubrovnik at 9.30 am, 1.30 pm, 4.00 pm and 8.00 pm, and in turn from Lopud to Gruz at 6.20 am, 12.15 pm, 3.00 pm and 6.40 pm. Taxi boats run on demand, non-stop.