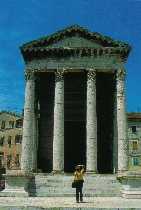 Pula / Istria - Croatia

The City of Pula is situated on the southern tip of the Istrian Peninsula. Legend has it that this is where the Argonauts settled after an unsuccessful battle and futile pursuit of a sea vessel transporting stolen treasures. Based on this legend the city foundations are estimated to be about 3000 years old. Some time later, Ancient Rome built and organized the city, to which many structures still stand witness even today. Many writers and artists visited Pula in search of inspiration for their creations, including James Joyce, Robert Koch, Franz Lehar, and Thomas Mann.

Today Pula is inhabited by 65,000 people. During the summer months this number increases twofold. With good transportation connections and proximity to neighboring countries Pula has become a choice tourist destination. The international airport is connected to European cities all year round, while the new road network, which transverses Istria in its entirety, enables quick and safe travel. Along its 190 km long coastline with numerous beaches, hotels, auto camps and private accommodation, one can find the settlements of Peroj, Fazana, Vodnjan, Brijuni, Valbadon, Medulin and Premantura in the south.

The settlement of Peroj with approximately 500 inhabitants is located on the southern coastline in the lap of Mediterranean vegetation. Many of its inhabitants is traditionally involved in agriculture and fishing, assuring a constant availability of home made produce and fresh fish. Numerous gravel beaches can be found at the base of the steep, rocky coastline, extending all the way to a small harbor which was for centuries an important sea port in traffic to and from Venice. Vodnjan, the center of the Istrian mainland, is crammed with interesting sites, eager to show-off all their beauty to every single visitor. A visit to the "Museum of Mummies" in the church of St. Blaise (sv. Blaz) is a must.

The Brijuni National Park, the only national park on the Istrian Peninsula, is comprised of 14 islands covering an area of about 736 hectares. The most interesting is the most fragmented group of islands. The diversity of plant and animal life that was nurtured here from the outset of the 20th century has shaped unique environments in which numerous bird species, reindeer, mouflon (mountain sheep) and other wild species has found shelter. The attractiveness of Brijuni is vouched for by the fact that historically (when Istria was part of the Austro-Hungarian Empire), it was often the choice destination for members of the Austrian, Hungarian and German elite. In recent times, however, it is rare to encounter a statesman who has not visited Brijuni. Besides its natural beauty, it is also worth visiting fascinating archaeological sites, including the Byzantine Castrum and Roman Villa from the imperial era, followed by the ethnographic exhibition, frescos, as well as the archaeological and natural science museums.

Brijuni are accessible by boat from Fazana, a small settlement beside Pula, a resort favored by Roman Patricians way back in ancient times. For centuries Fazana was a small dormant settlement with picturesque houses and inhabitants who practiced fishing and agriculture. Fazana today, with its 2,700 inhabitants, has become a respectable tourist destination. Because it accommodates the harbor from where sightseeing tours of the Brijuni National Park and Presidential Residency commence, Fazana has always been a place of fashionable happenings. As a result, a new part of town with villas and gardens has developed in recent years, where numerous guests have been cordially entertained to date.

Pjescana Uvala (Sandy Bay), a modern settlement with about 350 inhabitants, was established as recently as 30 years ago. The bay was discovered by bathers who were very much impressed with the natural sandy beach linking two peninsulas, and this is how the bay got its name. Banjole, a fishing village with a small protected harbor and approximately 700 inhabitants, was established as far back as ancient Roman times. The settlement is located on a small peninsula, an environment the envy of all who admire the sea, sailing and fishing. Even today, the inhabitants of Banjol are closely connected to the sea, explaining why fresh fish often comprises the daily diet.

Pomer, once a renowned fish and shell breeding area, is located in the western parts of Medulin Bay. Today, however, a multitude of fine fish restaurants can be found here. Medulin with its 1,700 inhabitants has a long, richly indented coastline, dotted with an array of islands. The southern most settlement on the Istrian Peninsula is Premantura, a picturesque town of 450 inhabitants which was settled as far back in history as the Bronze Age. Premantura is known for the lengthy yet narrow Kamenjak Peninsula, which with its multitude of bays and beaches extends into the Adriatic Sea as if it were an arm.