"Bura" sailing boat - a Colin Archer 45
Under the notion that you truly desire a real vacation, yet aren't considered a professional or experienced sailor (not excluding those that are!), or are unfamiliar with our coast and her estranged beauty – choose the "Bura" sailing boat. Enjoy the adventurous route your fully qualified skipper Vlatko will take you on, and not to mention, he is a master of barbecues. He will take you through the world of Dalmatian islands and their National Parks such as "Kornati", "Telascica" and "Krka". You will see these heavenly places through the eyes of your skipper Vlatko, who is at home at each and every one of them, and knows their every pebble and stone, so to speak. He gladly welcomes you to share this beauty with him. The "Bura" sailing boat offers you a rare and breath - taking experience to rest on her divine deck, more than comfortable salon and cabins - all made of natural wood that connects you with nature itself, particularly during favourable winds, when you can listen to the sound of the sea and waves - gliding through countless tiny uninhabited inlets to which you will surrender and eagerly come back to. On the "Bura" sailing boat you will surely experience an unforgettable vacation, therefore, don't think twice about this unique experience. Choosing the "Bura" will cause your friends and family to rejoice. The Dalmatian coast and your skipper Vlatko await's you!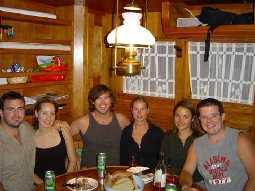 The sailing boat "Bura" was designed by the famous Norwegian constructor Colin Archer and built in Switzerland (1995). Advanced and modern, equipped for leisurely yet safe sailing in all weather conditions, her unique appearance and classifiable exclusiveness will court special attention amongst all boat lovers.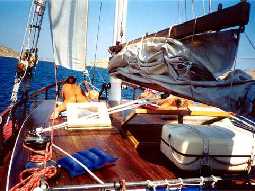 This boat can be rented only with Skipper, however: if you are a well-versed crew then you can make use of the Skipper as a guide and very good "hand for bed and food" because the skipper is included in the price!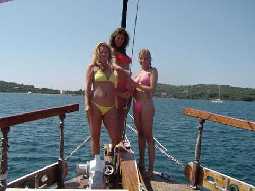 Boat details:
# Location: Olive Island Marina Sutomiscica - Ugljan Island / Zadar (44°05'44" N; 15°10'32" E)
# Built in: 1995
# Length: 13,6 m
# Width: 4,4 m
# Draft: 1,8 m
# Weight: 21 T
# Masts: 2
# Water tank: 800 lit
# Fuel tank: 800 lit
# Engine: 115 HP TD Perkins
Technical details:
# Radar
# Auto pilot
# Depth meter
# VHF
# Electrical winch
# Radio and CD player
# Bay-boat with engine
# 220 V
# Internet (gprs)
Equipment:
# 3 cabins, for 6 person
# Separate skipper bed
# Deck shower
# Warm water
# Sunshades
# Wooden fence
# Wooden deck
# Grill on deck
# Heating
# Genaker